CONVEYING EQUIPMENT AND STACKERS
COMPONENTS
BELTING
1)    Belt widths are typically 24" 30" 36" 42" 48" 54" 60" and 72"
24": up to 300 tph
30": up to 500 tph
36": up to 1,000 tph
42": up to 1200 tph
48": up to 1800 tph
54": up to 2200 tph
60″ and 72″: 2200 tph and up
These can change depending on material weight and size, incline, belt speed, feet per minute (FPM), etc. The parameters provided are just a guide.
2)    Belting Selection
Belting has top cover (carry side) which is the 1st # and a bottom cover 2nd #. Also has plys which are the fabric in the middle of the belting.
The longer the conveyor the more plys you need. Plys keep the top and bottom covers from separating.
Heavier top covers are needed for high impact i.e. under a primary crusher long drop at feed area or very abrasive material (High Silica). Heavy covers have nothing to do with long belts.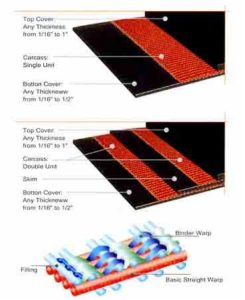 For Example:
Belting – 36" 3-ply 3/16" x 1/16" conveyor belt
OR
Belting –36" US Flex I – 1/4″x1/8″ Conveyor Belting
IDLERS
All Idlers have a CEMA RATING (Conveyor Equipment Manufacturing Association)
The smallest is CEMA B which is rated for 30,000 hours of operation based on 500 rpm of the roller cans. They also have the smallest shaft and bearing; thinnest shell on the cans and the smallest gauged steel frame. These are used in finished product and very low TPH 300 TPH and below. Used in applications such as Peat Moss, salt, wood chips, sand, and glass recycling.
CEMA C is the most common in the aggregate industry. It is the next size up from CEMA B. Tonnages to consider are from 300 TPH up to 1,000. Used in applications such as Sand & Gravel, Light duty mining,  and Portable aggregate equipment.
CEMA D is next and is used on higher tonnage operations such as Heavy Aggregate, Mining, and Rail Loading.
CEMA E & F are more for mining of precious metals and coal
HOW TO CHOOSE THE RIGHT IDLERS:
Again, it is based on tonnage but also width of conveyor. Remember, the higher the CEMA rating, the wider the bearing and shaft are. If you are using a 42" or wider belt with primary run material, CEMA D idlers might be needed.
Idlers have sealed bearings and regreaseable bearings. Regreaseable bearing have been used for many years, but today's seal technology makes sealed bearings much more economical and longer lasting.
There are two styles of bearings Roller Bearings (which are most common) and tapered which are in regreasable or high impact areas. Rollers are used for speed and tapered are more for impact.
Impact idlers. These are used in high impact areas located at the tail receiving area. Never use CEMA B in this application. These need to be spec'd for under a primary crusher or under a top over chute on a scalping screen or any long drops (Black Idler Below Figure 3a.).
Also can use an impact bed but this is for very extreme impact  i.e. rip rap
Self-aligning idlers for  200' or longer or high FPM should be mounted on the carry side (top) and the return side (bottom) every 100' There are many styles and do not align the belt but protect it.
PULLEYS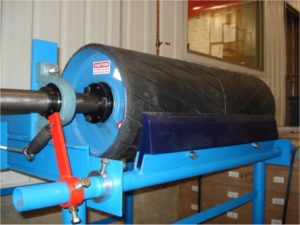 There are many different types of pulley; a basic conveyor configuration would consist of a head and a tail pulley.  In more complex configurations where more torque is needed, conveyors use what is called a wrap drives. Also some conveyors use gravity take ups to help tension the belt, as seen in the picture below.
The head is located at the head end and usually is the drive. These types of pulleys will have lagging on them which usually is a 3/8" Herringbone lagging. Herring bone is lagging with the grooves etched in it. There are other types of lagging such as Diamond legging, ceramic legging, weld on, cold bond, and will discuss as needed.
Conveyors will always have a wing pulley on the tail. Wing pulleys are not drum style and allow rocks and other material to be flung out to the side, thus protecting the conveyor belt
Gravity take ups  use pulleys as well; these pulleys can also have lagging.
All pulleys must have a shaft, which most of our competitors will standardize, where Masaba allows input from the customer if they require bigger shaft sizes i.e. 4 15/16" shafts are a more heavy duty style.
All pulleys have a wall thickness; Masaba uses a 3/8" wall thickness as a standard, where most of our competitors have a ¼".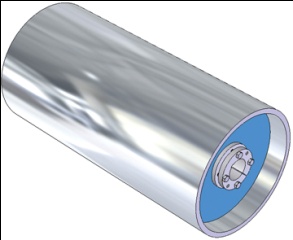 CONVEYOR TYPES
Masaba offers several different types of conveyors. A few examples and brief descriptions are given below.
36" X 80' Portable Self Contained Stacker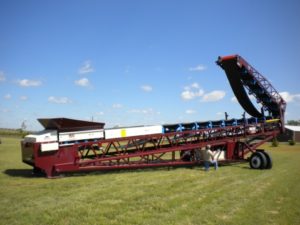 This conveyor is Road Portable, due to the head fold, and fifth wheel hook up.  It also includes brakes. Notice Portable in the title, meaning Road Legal.  Self Contained meaning diesel powered, run on a diesel generator.
30" X 80' Pit Portable Stacker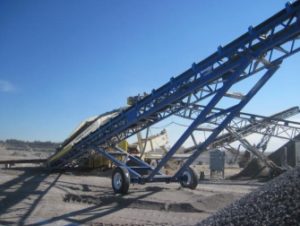 This conveyor is Pit Portable, because there is no fold in the conveyor, or brakes. Notice Pit Portable in the title, meaning it is Not Road Legal, but the user is still able to move it around the pit. 
36" X 100' Pontoon Transfer Conveyor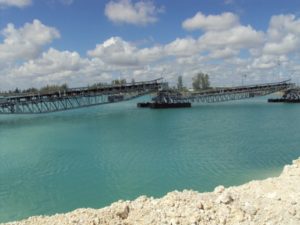 This conveyor is Pit Portable; these units would usually come up on a flat bed truck, and would have to be assembled.  These conveyors are used to convey materials over water, i.e.  Helping dredging machines convey material back to land.
48" X 125' Stationary Transfer Conveyor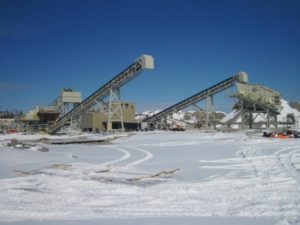 Stationary conveyor meaning, it does not radial, it does not raise and lower.  These conveyors are in fixed positions and need to be assembled on site.
MASABA CONVEYORS:
Why should someone be interested in a MASABA conveyor?  Aren't they all the same, like a commodity?  What makes a MASABA conveyor a better value?
MASABA CONVEYOR FEATURES:
Better Drive Components
Stronger Lattice Section
Idlers
Customization
Longer Life by Design
Higher Resale Value
BETTER DRIVE COMPONENTS
MASABA tends to have larger head and tail shaft sizes, however with larger shafts come larger bearings. MASABA uses two row tapered roller bearings where many others use single row ball bearings.  Two row-tapered roller bearings are known to have a lifetime of 20 to 30 years lifetime with proper maintenance.
MASABA utilizes Dodge reducers and our conveyors are usually built with a larger gearbox than our competitors. Larger boxes last longer as they are built from larger, stronger internal components. A correctly sized and properly maintained gearbox should last 20 to 30 years.
Masaba also uses WEG Motors, as do many our competitors, but is important to compare horse powers when comparing apples to apples.
STRONGER LATTICE SECTION
MASABA chord angles range from, 3" x 3" x 1/4″ angle iron. Many competitive units are constructed with the same size chord angles, some with smaller. MASABA adds two additional full length angle irons under the bottom chord angles. These angles are the under rails and constructed from 3" x 4" x 5/16" angle iron. Therefore, a competitive unit with the same size chord angles has over 50% less steel in this critical area. Typically, if the lattice section becomes damaged or it's strength is somehow compromised the conveyor may well be scraped. Other components such as idlers, bearings, belts are mechanically fastened and upgrading at time of replacement is an option. We believe the lattice section is essentially the back bone of the conveyor, which determines the overall structural rigidity.  Since all of our conveyors are jig welded, you know they are straight & true!
At MASABA, a 60' conveyor will actually measure about 64'. The lattice section is constructed to measure 60' long. The extra length comes from the addition of the head and tail sections to the lattice section. Most other companies measure their units from center of head roller to center of tail roller.  A MASABA conveyor will typically have 3 to 4 feet more lattice section, 6 to 8 feet more belt and an additional troughing idler.
CUSTOMIZATION
At MASABA we like to work with our customers on their specs, to make sure the conveyor is built to their expectations.  Where many manufacturers have the "cookie cutter" piece of equipment, we go through everything with the customer, as far as shaft sizes, length, idler selection, pulleys, hopper, motor, hydraulic fold, hydraulic Raise and Lower, radial travel and gear box size.  We like to sit down with our customers and go through all these specs to ensure we have met their needs.
 LONGER LIFE BY DESIGN
FACT: 5 year structural, 2 year components Warranty
FACT: The low-end conveyors on the market today are designed to last one to three seasons prior to major component failure.
FACT: The mid-range conveyors on the market today are designed to last five to ten years prior to major component failure.
FACT: MASABA conveyors are intended by design to last 15 to 25 years prior to requiring major parts replacement.
HIGHER RESALE VALUE
MASABA has worked hard to establish and maintain a quality name in the industry. Everyone working at MASABA strives to make sure that every piece of equipment is built "MASABA Tough" and with the quality our customers have come to expect and deserve.
Because of this, we have seen used equipment sell for more than what it sold for new! We feel that resale value is something potential customers should take a serious look at when purchasing equipment.

COMPETITIVE ADVANTAGES
Standard Equipment

1000 TPH Capacity
Cema C Idlers
3-Ply Belting
Vulcanized splice

Masaba patented Track Technology – Safer more reliable; Hydraulic Holding valve to prevent roll back of stinger in case of hydraulic failure.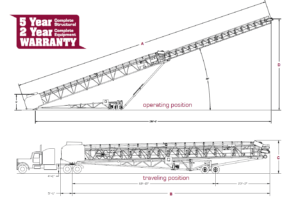 No hydraulic or electrical line failure to worry about on stinger with Track Technology. Electrical lines on Festoon System behind stinger and protected from material build up
No winch system. Winch systems add weight to stinger and create added up and down forces on both the main and stinger trusses.
User friendly. Has good operator functions; can track radial travel in manual mode to set proper radial arc for automation mode; creates more stockpile volume in stockpile due to set windrow programming. Stinger retracts half the distance than it extends during each row, this allows material to stockpile between windrows allowing for more stockpile volume and better desegregation.
Large Touch screen
All Nema Components
At end of radial arc the PLC is pre programmed to begin slowing down to a gradual stop in lieu of a sudden stop, When a telescoping conveyor comes to a sudden stop, this creates a "whipping effect" on the stinger and puts stress on both the stinger and main frames.
As stinger extends radial speed slows down to allow for higher stockpile on back side (away from axle) instead of front side closest to the axle
Outside set of wheels can be offset to provide proper alignment with the pivot point at the tail. This allows for proper radial arc and no scuffing or jumping of tires during radial travel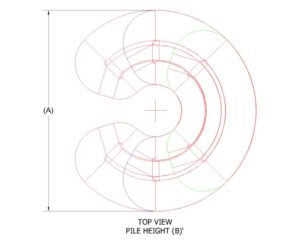 Encoder. Radial counter is located at pivot pin under a protective cover to prevent material build up.
Hydraulic system has cooler for high temp and heater for cold temp.
Stinger belt has a true self-aligning idler in lieu of an upside down troughing idler. Upside down troughing idlers can create belt camber and cause belt misalignment and material spillage
Hydraulic System has a 30 hp motor and pump system in lieu of 10 hp. This allows the Masaba Magnum to operate more than one hydraulic function at one time.
Counterweight is included, no need to pour a concrete counterweight
Includes Hydraulic axle jacks and Honda power unit to set up Magnum without any power hooked up to it. No need for a crane to set it up.
Warranty – 5 year structural and 2 year components