March 14 – 18 | Las Vegas
USE CODE MAS4759C for discount
We look forward to seeing you at CONEXPO 2023!
We're exhibiting in the Silver Lot, booth 5918 – conveniently located right outside of central and north halls.
The team is excited to highlight some of the new and improved features of our patented Magnum Telescoping Radial Stacking Conveyor along with our patented Drive-Over Truck Unloader with self-deploying outer ramps and extended third ramp, and finally we will display our 10×16 Hydraulic Relieving Grizzly Feeder with adjustable grizzly bars.
Masaba's 2023 CONEXPO equipment lineup includes:
10×16 Grizzly Feeder
36×140 Low Profile Folding Axle Magnum Telescoping Conveyor
48" Low Profile Truck Unloader with Self-Deploying Outer Ramps and Extended 3rd Ramp
In addition to our equipment display we will have a double-deck structure in the booth for social gatherings and meetings. Masaba will be hosting social hours Tuesday, Wednesday, Thursday and Friday in the booth. Our Dealer Get Together will be held on Tuesday, March 14th from 6:30 – 9:30 p.m. at Carson Kitchen, 124 S. 6th Street (Corner of Carson Ave. & 6th Street).
Please RSVP to the event by completing the form below, or email jamie.ridgway@masabainc.com to let us know you're coming!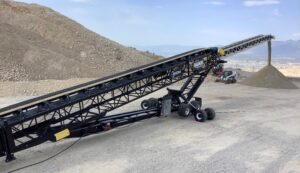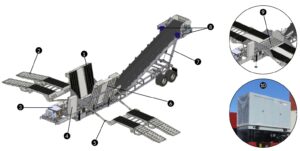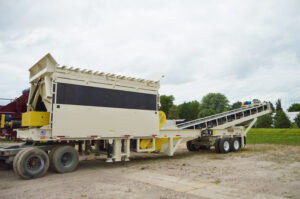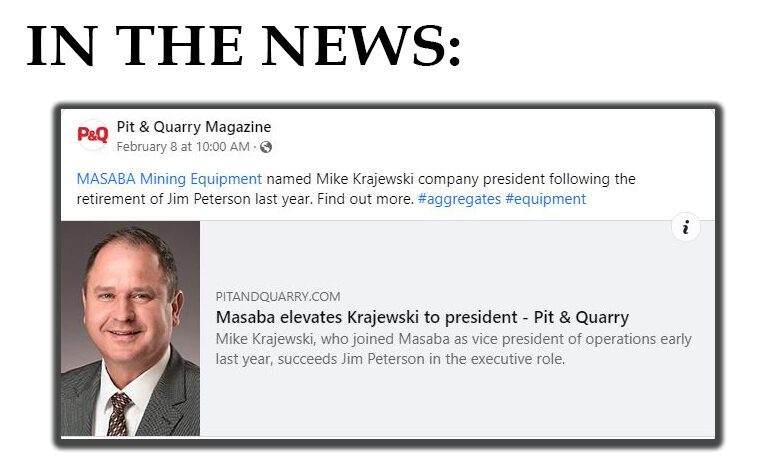 Krajewski looks forward to his next chapter at Masaba.
"I am honored to be the next president of Masaba and want to thank Jerad for the confidence he has placed in me to lead this organization," Krajewski says. "Masaba has an exceptional team in place and has been providing a high level of service and the best engineered products to the aggregate industry for many years. I look forward to working with Jerad and the rest of this amazing team to build an even stronger organization and expand our reach to more of the aggregate industry."
MASABA NAMES MIKE KRAJEWSKI PRESIDENT
Masaba named Mike Krajewski company president following the retirement of Jim Peterson last year.
Krajewski, who joined Masaba in February 2022 as vice president of operations, served as the company's executive vice president immediately following Peterson's retirement. According to Masaba, Krajewski had more than 16 years of senior management experience before joining the company – including 10 years of business unit leadership spanning mergers and acquisitions, sales, marketing, customer service, business development, product development, engineering and manufacturing operations.
"Mike joined the Masaba team a year ago and has provided us with a valuable perspective on our overall business and approach to the market," says Jerad Higman, CEO and owner of Masaba. "His leadership experience and management style have translated well to Masaba as we continue to grow and reinvest in our team and the industry. We are fortunate to have him on our team."
Stop by the MASABA booth, S5918 to meet Mike and visit with TEAM MASABA! 
Carson Kitchen Dealer Get Together RSVP
Please let us know if you will be joining us for our dealer & customer get together on Tuesday, March 14th at Carson Kitchen from 6:30 – 9:30 p.m. by completing this form!